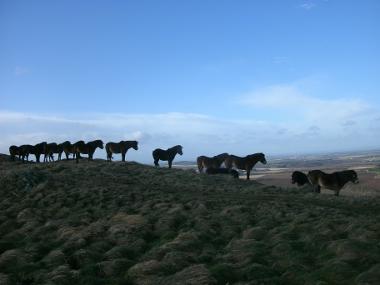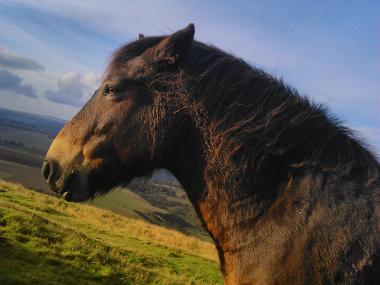 Left: The 13 Pony Kings of Traprain (one is laying down!). Right: The amazing Pegasus-Whistler.
"Whistler's Song" was composed by Liz of Greenstrings Music (and Chambermaid to the 13 Pony Kings of Traprain!) several years ago. It has a very deep message within it which seems really appropriate for this "virus time" us humans are going through right now. Greenstrings Music students were planning on recording the song for YouTube on 28th March 2020 but with this virus situation we are needing to postpone the recording til later. However, the ponies are speaking to us humans through the words of this song - and hope it can help us all to seek new Positive Meaning to troubled human lives right now....
Through the Eyes of a Pony : Whistler's Song
Much have I seen
Wonders of life at my feet
The world in perfect harmony
Through the eyes of a pony - that's love.
The Soul of Earth beneath my feet
The joy of radiant sunshine fills my heart
The dew of each new morning bathes my body oh so bright
While winds sing songs that rustle star fed nights.
Chorus
Sing to me now humanity
Sing to me now its time to share
Reach into my heart, feel the power of a pony's love
With the dawn of each day - feel my joy.
Feel the wind through my mane
Sense the sweet Soul of Traprain
What more can I ask
But that as each new day does past
Humanity will follow Whistler's way.
Whispers through the night from friends' of old
Their wisdom a light of burning delight
They teach me to trust
That with the dawn of each new day
Will bring my herd its needs to feed our hearts.
My herd it plays in the early morn
Our silhouettes they dance to Traprain's form
From the youngest to the oldest -
We find joy in each new day
And honour our life - its a pony's way.
The Moorland Mousie Trust it is our home
They reached out to us in our time of sorrow
We sing to you, humanity
They didn't turn away
But gave us life to sing our Song to Traprain.
Chorus
Sing to us now humanity
Sing to us now, its time to share
Reach into our hearts
Feel the power of the ponies' love
With the dawn of each day - feel our Joy.
.............
Questions arise for us humans from this song :-
(a) What is Whistler's Way?
(b) "The world in perfect harmony"
(c) "They teach me to trust that with the dawn of each new day
Will bring my herd its needs to feed our hearts"
(d) "And honour our life - it's a pony's way"
...............................
I've had the great opportunity to have had some of the best teachers in my life in the World of Music & Homeopathy. However, the Animal Kingdom too are superb, natural teachers and I have found The 13 Pony Kings of Traprain able to teach us humans things that just cannot be found in books - we need to "live" the experience. If we allow Time to be found to listen to the Language of Nature - to actually "live" the experience through Nature - it opens up to us a unique world that the wonderful 13 Pony Kings of Traprain not only have deep understanding of - but they also celebrate when recognising humans who are wishing to enter that unique space of learning.....
Look at (c) above - right now everyone is feeling very tense, scared, in the world. Loved ones seem threatened by the current virus, peoples' livelihoods seemingly destroyed. Our modern world lives at a very fast pace - this virus has brought us all back to a slower pace - a pace where we can reflect. Without "space" in our lives we can't reflect. Try reading this :- "theyteachmetotrustthatwiththedawnofeachnewday". Harder to read isn't it. But thats how we live our lives daily..... We need the gap - space - to renew energy, be able to reflect.
There is now no question that our Planet is reaching its tipping point - and perhaps Nature is giving us a warning? Think of the bat - it hangs upside down - and right now peoples' lives feel upside down. For those people right now going through anguish with loved ones or concern of material loss it will be hard for them to "see through the darkness and into the light". But society globally can help them - and we are hearing of some great examples of that each day. Thats "the world in perfect harmony"......
Governments worldwide are working together now - but it has taken a virus to do that.....
So Whistler's Way is about Unity - Harmony - and perhaps the thing us humans find most difficult of all is.....
TRUST.
("They teach me to Trust that with the dawn of each new day
Will bring my herd its needs to feed our hearts").
Governments worldwide right now are working together to help Mankind. Our own UK government has urged people to stay at home - but (at present) giving people opportunity to still get some Vitamin D by taking a walk, release stress and find Peace within the countryside. But in the UK this weekend masses of people went against Government Guidelines to cluster together on beaches and Parks - which are now under threat of closure because of their actions. That IS NOT Whistler's Way!
The song talks of "My herd it plays in the early morn"
I've noticed what an amazing, tight community the 13 Pony Kings of Traprain are. They "look out" for each other and show great respect to both the youngest and oldest ponies (Bob and Tunny). When our countryside and beaches are under threat of closure because of the wrecklessness of people gathering against Government guidelines that isn't showing respect - for themselves or others.
Nature's Voice is calling to us to think about our Planet now. This virus will pass - but lets not miss the strong message it is sending to us. That message is there whether we wish to acknowledge it or not. Right now lets use this "space" to reflect and see whether we can all alter our lifestyles to harmonise more with planetary needs. We can do it - but its whether we have the desire to that will make the difference. For those people working on the front line of the NHS and huge supporting network of services such as supermarkets and other essential services, parents struggling with very difficult family situations right now - those problems are not giving them "space" to really think. But the rest of us can play our part - if WE use that space to reflect and develop a desire to make Positive changes to our patterns of life - it will in turn help the world globally. That's Whistler's Way - only in this instance "Whistler's Way" is not ponies but people.....
Please note: I could have chosen to write this on other websites I have but this IS a message from the Traprain ponies - and deserves to be on their website. However, I stress this message has not been created at all by the Charity the ponies come from or our local Council or individuals mentioned on this website. Any queries relating to this message needs to be addressed to Liz at : elizabeth@panettahealing.com
THE EPC/MMT NEW 2020 KNITTING & CROTCHET CLUB!
If you are keen to encourage children to enjoy the Art of Crotchet & Knitting please take a look at our Home page on this website (half way down).
My name is Freddy and I am featured on the Exmoor Pony Wordsearch. I wonder if you would like to know where I was born? If so just click on the link below to find out!
http://exmoor-pony.blogspot.co.uk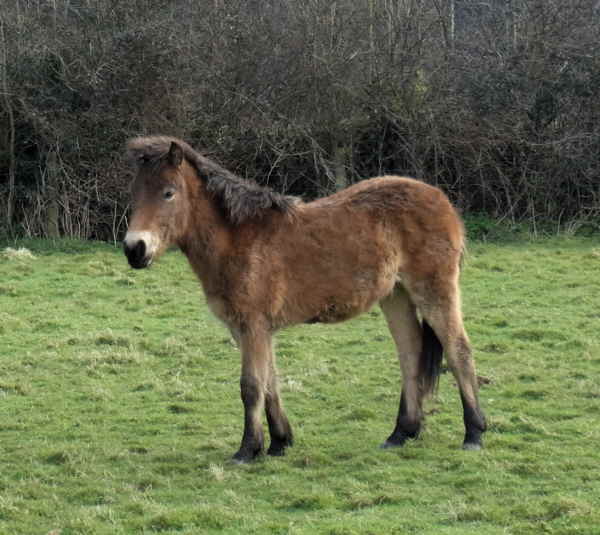 The Wordsearch can be obtained from Li z by phoning or texting her on 07454 655 955 or by email at elizabeth@panettahealing.com.
Information below originates from a Traprain Competition in 2019 but has been left on for anyone interested in Butterflies and their friends! Please note the actual Competition is now CLOSED - but a new Competition will be displayed asap.
BUTTERFLIES :

All butterfly information kindly provided to us by courtesy of Nick Morgan, Access Officer, East Lothian Council).
The Painted Lady Butterfly
The parents of the butterflies seen here lived in North Africa. They fly to Europe in the Spring and their children then fly to northern France and southern England. Some of these make their way to Scotland or will have young which arrive here. In the late autumn these butterflies return to southern Europe or Africa. No one knows how these butterflies can find their way to where their grandparents started from. Painted Ladies are the most widely dispersed butterflies. They are found in the Caribbean, Africa, Europe, New Zealand and as far north as Iceland. They also migrate further than any other butterfly including the famous Monarch of the USA and Mexico.
The Common Blue
The caterpillar feeds on bird's foot trefoil and black medick. As the caterpillars get older they are looked after by.....ants!
BEES
All bee information kindly provided to us by courtesy of Duncan Priddle, Countryside Officer, East Lothian Council).

Bumblebees have an advantage over other insects when it comes to plants..... they are bigger and furrier so can thrive in worse temperatures than all other insects.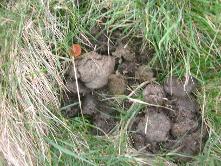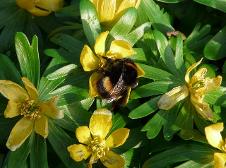 So you don't think the manure photo above is attractive? Ah! But some Creatures of Nature think it tantalising!

Right above : buff-tailed queen bee
Right opposite : Carder bee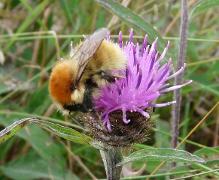 Question 10 in the Competition asks you to look at photos of the Traprain ponies staring at something. (Photos taken on the south west ridge March 2016). Here are the photos you need to look at. The pony by himself is Whistler.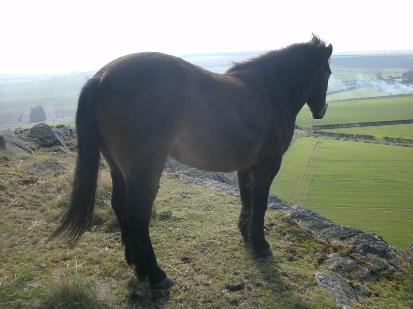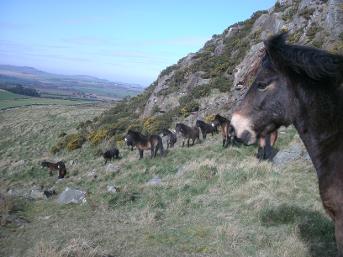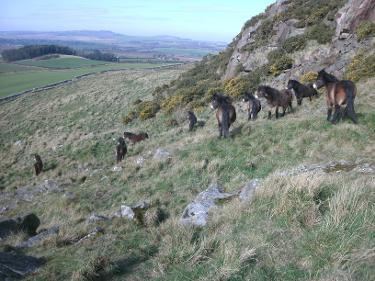 The 13 Pony Kings of Traprain hope the photos help you....!
If you are needing help with questions about e.g. the Anchor herd Bob, Whistler and Thistle are happy to help you.
Just click on this link which will take you to the Pony Language page where you will see a conversation between the 3 Pony Whiz Kids! The conversation is called "A Pony Chat of Great Importance".
Just download the Competition using the link given at the top of this page - and the wonderful 13 Pony Kings of Traprain and everyone who has helped to create our Competition hope you find it fun!
The winners of the Competition will have the opportunity to come to a Concert in October 2016 and be presented with their Prize - or can opt to have their Prize sent to them.
The 13 Pony Kings of Traprain find each day a new Adventure - there is always something new and exciting to find out about and we all hope this Competition helps you share in the Adventure of Learning
If you have enjoyed this competition, please consider making a donation to help the Moorland Mousie Trust in their work with these rare-breed ponies. Please click here to find out how you can do this.