Moorland Mousie Trust
Conservation Grazing at its Best!
This page has been created as a Tribute to the tremendous work by The Moorland Mousie Trust with its team of dedicated workers - working together in harmony to ensure the wonderful rare breed Exmoor Pony thrives.
MMT is a Leader in conservation grazing and has ponies throughout the UK and Europe in highly successful conservation programmes. This page highlights just one such area of the UK : East Lothian, Scotland.
The ponies and volunteers at Traprain Law and North Berwick Law, East Lothian, Scotland UK give a huge thanks to the wonderful MMT conservation programme which gives conservation, ponies and people a unique opportunity to work together to create a more harmonious environment both now - and for the future inheritance of the Exmoor Pony and our children......
Traprain Law volunteer Liz recently had the opportunity to visit The Exmoor Pony Centre, home of The Moorland Mousie Trust - and the inspiration of that visit is echoed in the photographs shared with you below. We hope you enjoy them!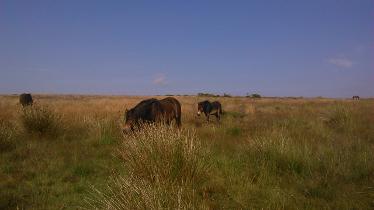 Liz was driving across the Moors when suddenly she saw this mare and foal coming towards her.....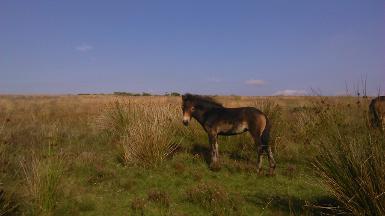 Liz was surprised to find the 2 adult ponies very comfortable to leave the little foal by itself with Liz for several minutes. The foal just stared at Liz as if sharing a secret with her.....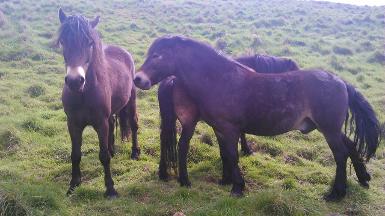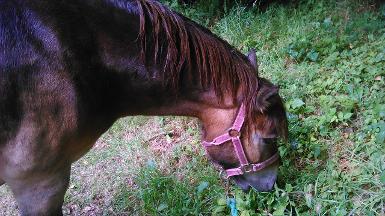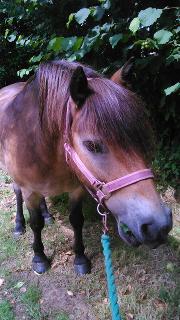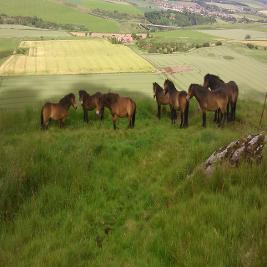 Above :
MMT Traprain ponies grazing on the north slope of Traprain
Below:
Newest Exmoor pony arrivals to East Lothian, Scotland UK are the MMT Exmoor ponies at North Berwick.
Photo by North Berwick Volunteer Sylvia Beaumont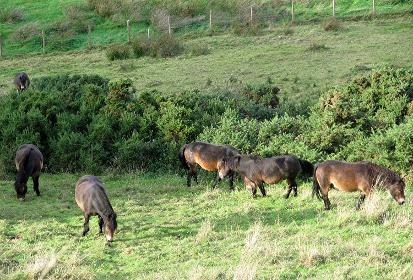 Traprain Law and North Berwick Law in Scotland are just two of the outstandingly well managed and inspiring conservation sites in the UK organised by The Moorland Mousie Trust in cooperation with East Lothian Conservation Department of the East Lothian Council.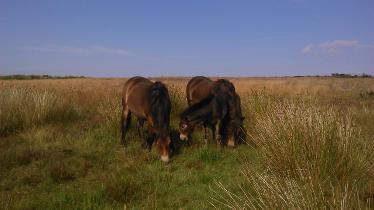 Liz stopped and stood watching as all 3 ponies came towards her.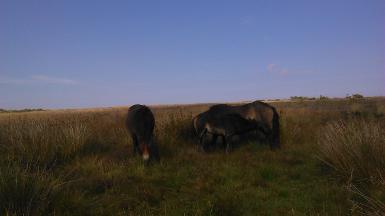 Then the 2 adult ponies came back and the little foal went and suckled from its Mum.....

Opposite are Traprain ponies Juglans on the left with Tunny on the right.

The little foal (above) and Tunny share a secret - they are both from the same herd group!!
There is an average of 400 Exmoor ponies living on the moors of Exmoor - yet the only ponies Liz saw there that day just happened to be a relative of MMT Traprain pony Tunny....! Tunny might live 500 miles from Exmoor and this little foal - but that little foal and its Mother knew the connection that day.... and Liz was thrilled to tell Tunny when she got back to Traprain!
This beautiful pony on the left is called Fleeter and lives at the Exmoor Pony Centre, home of The Moorland Mousie Trust. Liz was able to watch Fleeter receiving expert chiropractic treatment at the Centre - and then privileged to taking Fleeter for a walk. Liz also met Tom who gave many children the delight of being able to groom him and Abbie who has amazing patience and understanding, instilling confidence in youngsters learning to ride a pony....!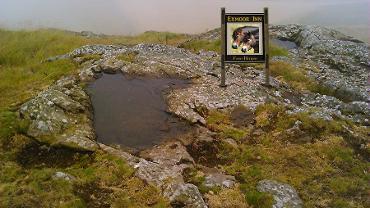 One of the many natural features on Traprain Law - a beautiful natural rock basin. The Exmoor Sign has been added to the photo as a "creative work of art" by Photographer Sylvia Beaumont and does not really exist. The rock basin certainly does exist!
Below :

One of the outstandingly beautiful butterflies to be seen at North Berwick.
Photo by North Berwick Volunteer Sylvia Beaumont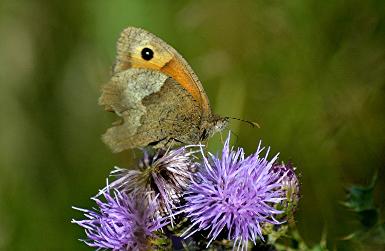 If you feel conservation grazing could be an ideal form of land management for you the volunteers at Traprain Law and North Berwick Law highly recommend The Moorland Mousie Trust who will guide you through every step and give expert advice in all matters relating to conservation grazing.
To contact The Moorland Mousie Trust please go to our Contacts page by