Welcome to the MMT Traprain ID page!
This page is primarily for the use of MMT Traprain Volunteers & Rangers who do a magnificent job throughout the year overseeing the positive welfare of our wonderful pony friends - but can at times find it difficult to know just "who is really who within the herd". However, visitors to Traprain will also take great delight in trying to ID the ponies. In return the ponies, volunteers and Rangers do ask everyone to respect the ponies need for space. Visitors are asked to never approach the ponies but instead enjoy viewing them from a distance. All ID information given below can be used from at least 15ft away. If for any reason - and this can particularly happen in the tourist season in the Summer - people do find themselves within close proximity of the ponies - who can be inquisitive of us good natured humans particularly in the high tourist season - we ask you to just wave or clap your hands at the ponies. This will encourage the ponies to always keep a good distance - and in turn you are helping us all to maintain a really good balance between the ponies and humans who all enjoy sharing Traprain - thank you.
If you have queries or need help with MMT Traprain Pony ID just write to the creator of this website MMT Volunteer Liz Mercer at :-
or contact Liz on :-
Tele/Text: 07454 655 955
and Liz will try to help you
Have fun with the Pony ID!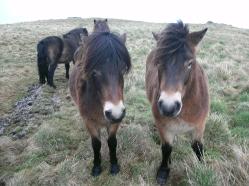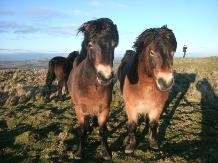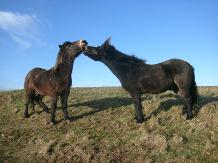 Can't tell us apart? No worries - we're here to help you! You will find our names at the bottom of this page (once the whole page has been constructed) - but first try to ID us! See if you can recognise the pony in the first photo above, too, with its back to the camera.... oooh! Thats a tricky one eh?! In 2 photos above there is the same pony.... do you know which pony that is? Some photos are included purposely from a distance without their forelocks showing. This is on purpose as frequently you will be viewing the ponies from a distance only. In this instance look at their mannerisms i.e. some ponies play-fight with each other - others never do - preferring a "quiet life"!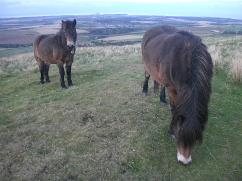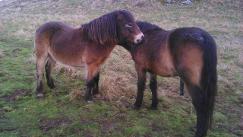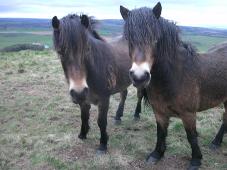 Perhaps these photos are even harder to ID? Where possible study their fringes (forelocks) which never alter no matter what time of the year it is, their posture which is very unique to each pony - and in the middle photo above the tail and colour of the hind area. Remember - you will be able to find out who all these ponies are by going to the end of this page.
This information will be given once the whole page has been constructed.
Here we go ID : !! The best way to ID the ponies is by studying their forelocks (fringes) which never tend to change throughout the year.
There are 3 very "red" - golden - ponies at Traprain. Really study their forelocks (fringes) and you will see a big difference. (The dog in the background of the 1st photo is Ben-Skye of Traprain - who thinks he is the Herd Leader mmmm!).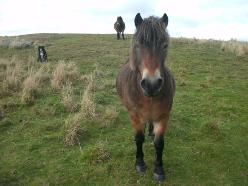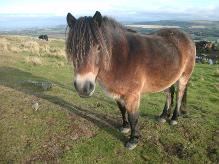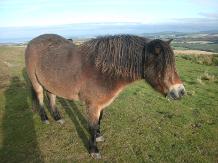 Above left: Viper of the Anchor herd. Viper's forelock always looks as if he has just come straight out of the hairdressers and had a perm! He has a truly beautiful forelock - very "fuzzy". Personality: enjoys being "in the herd" - not on the outside of it - nervous of humans but very at ease with the other ponies. (You will occasionally see Viper away from the main herd - but not far away).
The 2nd and 3rd photos above are both of Elmer who has a very defined mane. (3rd photo). Notice Elmer's forelock is longer than Viper's. Elmer is nervous of humans and at times a little cautious of the other ponies but generally enjoys being "in the herd". He is one of the smallest, "stockiest" ponies.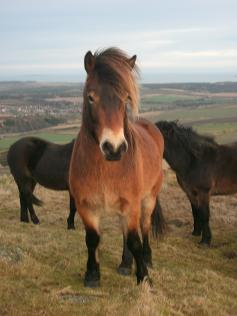 The pony opposite right is Spike. He is one of the tallest ponies with a long soft forelock. He is very wary of dogs and humans. He also enjoys being "within the herd" and can often be seen playing with Jessie James who you will see on this page further down.
So folks - have you noticed that one common feature of all 3 "red heads" is that they all like to be "within the herd" and all tend to be nervous of humans generally?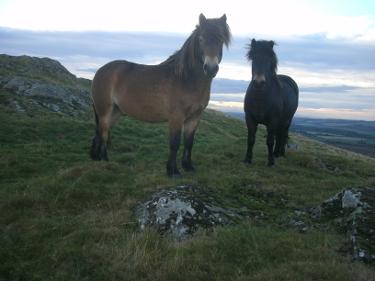 Opposite: Spike (left) and Jessie James (right) who had just finished play-fighting together. Note that they are of a similar height to each other - and totally different colours!
So - we have taken a look at our 3 most "red haired" ponies - now lets take a look at the 3 blackest ponies who are Jessie James - Juglans and Tunny.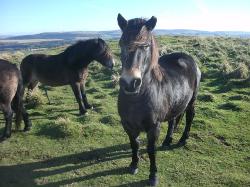 Above left
: Very handsome Jessie James. Jessie is the blackest of all the ponies, tall (like Spike - they frequently play-fight together) and "muscular looking". He has a very straight forelock that comes just in line with his eyes (some ponies forelocks are very long). However, Jessie's most distinguishing feature is his "dark, muscular look " - and if you are able to see - from a distance - his left ear you will see he has a little "notch" out of the ear. He enjoys play-fighting with Whistler and Spike particularly and is very much "part of the herd". He is nervous of humans but enjoys a tremendously good relationship with the herd.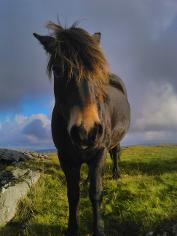 Above: the "Jessie James" look in the Summer - note his very glossy coat look - especially in the Summer months. Also the golden strands that can be seen in sunlight in his forelock.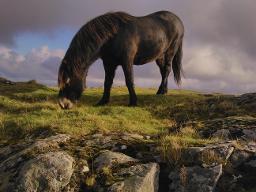 Above: Jessie James on the East Rocks. Note his mane.
Right and below: Tunny who is more of a dark "charcoal grey" in colour. Tunny is a particularly "wise" pony, very gentle and although enjoys being "in the herd" does not readily make himself noticed - but is always observing what is going on around him . He is of average height and has a lovely "rounded" appearance throughout the year. His forelock grows to just below his eyes, but not extremely thick.
(Photo: courtesy of Dave Hamilton-Smith at www.dhsmithphotography.co.uk)
Right: Very gentle Tunny with Jessie in the background. Tunny enjoys a great relationship with all the ponies. Very wary of humans.
Below: Tunny taking a quiet snooze.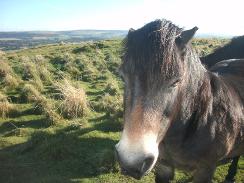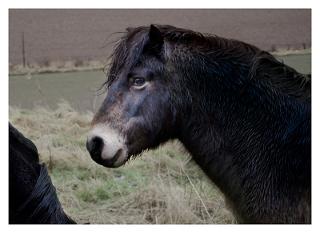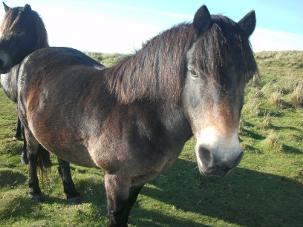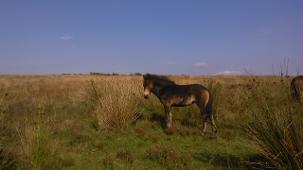 Above: ponies on the summit in winter.
Who is the little foal in the photo below Tunny? Its one of Tunny's close relatives. When volunteer Liz visited the Centre and drove across the Moors this little foal came to say hello - and Liz realised it was from Tunny's herd group..... a wonderfully memorable occasion!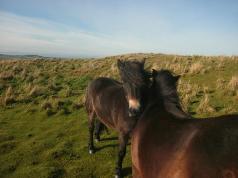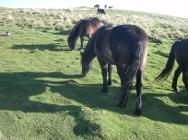 Above left and opposite:
Juglans playing and grazing. Note Juglans long forelock. He is a tall, slender pony, very dark charcoal grey in colour. He can sometimes be seen more on the outskirts of the herd - but never far away from the herd. He is of nervous disposition and feels more protected within the herd. He has a good relationship with all the ponies. He is very nervous of humans and asks that us humans respect his wish of distance from him.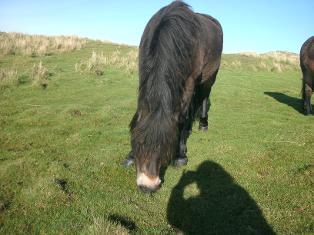 Above right: If you look hard at this photo you can see white markings on the back of Juglans left upper leg - a very distinguishing feature. This was caused by a very dramatic - traumatic accident many years ago (not at Traprain). The white markings can be seen from at least 15ft away so there is never a need to try to go too close to him - it will just disturb him and make him feel the need to move. Thank you for respecting his need of distance.
So Jessie James, Tunny and Juglans
are our 3 darkest ponies. You will notice similar personality traits as we saw in the 3 "redheads", i.e. they like to be "in the herd" and all will be wary of humans. However, there is a "striking difference" in wariness of humans between the 3 "redheads" and the 3 darkest ponies. The 3 "redheads" (Viper, Spike and slightly less nervous Elmer) will all appear very nervous -
will act as if quite alarmed on approach
. Two of the darkest ponies (Jessie and Tunny) will also be wary of humans - but
will move away slower, less alarmed - as if they feel "more in control" of their situation
. Juglans, the 3rd of the three darkest ponies, will act more like our 3 "redhead" ponies - quite alarmed on approach - no doubt triggered by echoes of his trauma of the past. (In his "natural state" - without a history of trauma - it is likely he would be less alarmed and feel more in control of his situation if approached, similar to the other 2 darkest ponies).
Below : Unicorn - so aptly named!
Opposite
: Unicorn left with Whistler on the right. (Note Whistler's short forelock - the shortest of all the herd). Like our 3 "redheads" above Unicorn is very light - but not as red. (He is similar in height to Viper but not as tall as Spike). He looks quite slender. Unicorn is very aptly named! He has the longest looking face in the herd - and you can see the "Unicorn" look about him!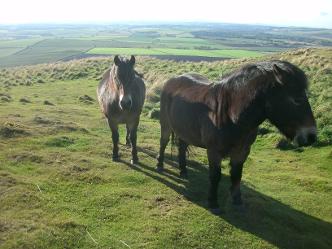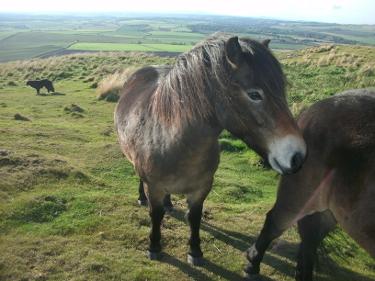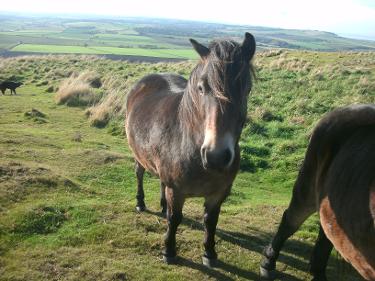 Note
Unicorn's "whispery" soft looking mane and forelock. He enjoys being "in the herd" but, like Juglans, is also frequently seen on the outskirts of the herd but never far from the other ponies. He interacts well with the herd - but will not hesitate to tell other ponies off if he feels they are encroaching on his territory when he is quietly grazing. He is
not
a big fan of dogs - preferring dogs to respect his own space. Very wary of humans and will react to human approach in a similar manner as Viper and Spike.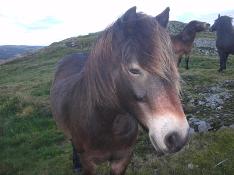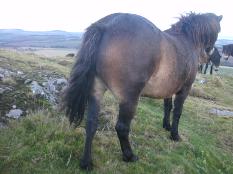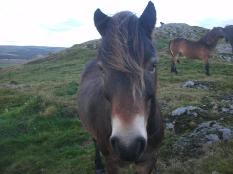 Above left, middle and right: Rowan, who is a little taller than Elmer but smaller than Tunny. Rowan's mane always looks as if someone has just given him a haircut - it has a very straight edge throughout the year. Note Rowan's very prominent "cheekbones". Also note the beautiful "silver threads" Rowan has growing throughout his tail. Rowan enjoys very much being "in the herd" but, like Tunny, tends to observe what is going on in and around the herd but does not make himself generally "prominent". Rowan tends to demand - quietly - great respect from the other ponies and will at times tell younger ponies like Bob very gently off..... he can frequently be seen with Whistler and Bob. He is very shy of humans.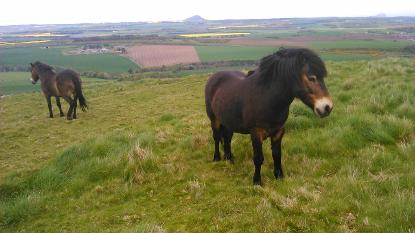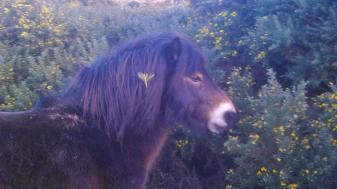 Dandelion: above, right and opposite. Dandelion is average height - but definitely not an average pony! He's stocky in appearance and the only MMT Traprain pony to have a very "mottled" look on his body. He has a heavy mane and thick forelock. He tends - on average - to keep aloof from the other ponies but as you can see in the group photo (below) does mix with the other ponies at times. (Dandelion is in the front right hand side in the group photo below). He can be seen spending time with Firtree sometimes.He is a very gentle, sweet natured and deep-thinking pony.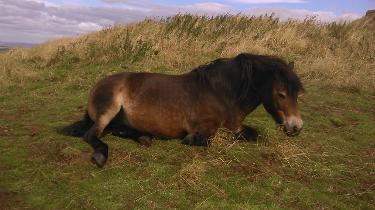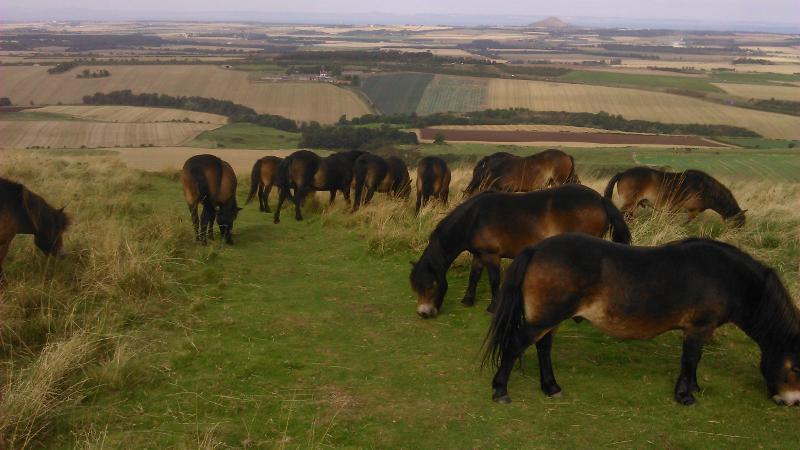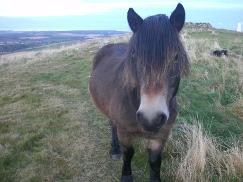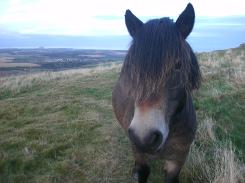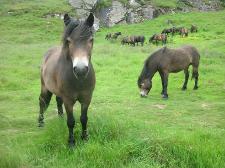 Above
: Thistle who is a tall pony with an "old" look about him - which disguises a
really
playful character! He gets on really well with all of the ponies, very kind, gentle and has a great sense of humour! (Wary of humans). In the early days of youngest pony Bob arriving Thistle took charge of working with Whistler to teach Bob "the ways of the Traprain pony". He has a long heavy looking forelock. Photo above on far right: Thistle with a windblown forelock in front with Bob to the right.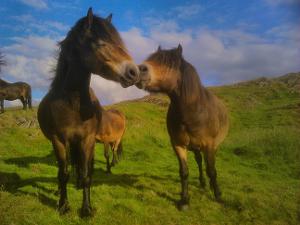 Above: Bob (left) talking with Firtree on right.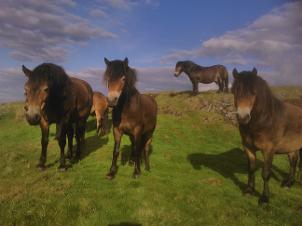 Above
: left is Whistler, centre Bob and right Firtree. All 3 forelocks are completely different to each other.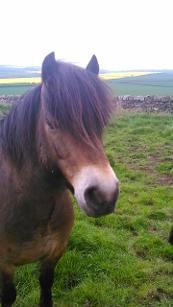 Firtree above
: is a wonderful pony with a great sense of humour. Often he likes to "keep his own company" away from the herd group but sometimes spends time with Dandelion. He has a very heavy, thick, soft looking forelock - and doesn't usually have mud on his neck as he has in this photo!
Personality: While very wary of humans he does not show a nervous tendency, giving a feeling that he is in charge of his situation - and will move away from approaching humans calmly. Although at times happy to very lightly tell youngest pony Bob off he shows respect to other members of the herd. He can be seen at times with Whistler and Bob when "in the herd".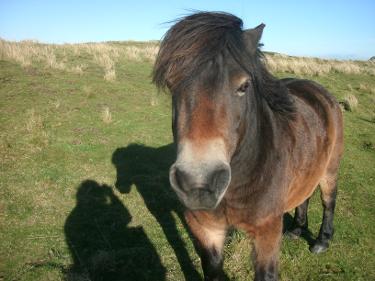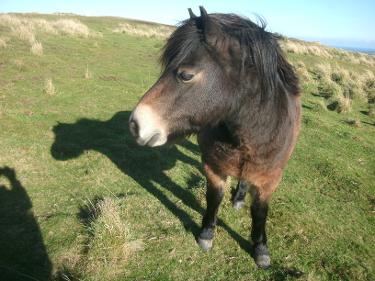 Bob & Whistler (alias Pegasus/Midnight)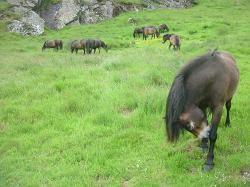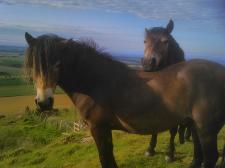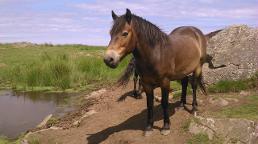 Above Left: Bob cleaning himself. Above centre: Bob with Whistler using Bob as a good Chin Rest! Above right: Whistler in the Summer
The photos above and below of Bob and Whistler together show strongly the very close bond they have together. Whistler will not hesitate to tell any member of the herd off when necessary - but in Bob's case does it particularly gently. Whistler, along with Thistle, taught youngest pony Bob "the ways of the Traprain pony" when Bob first arrived at Traprain. Bob has a wonderful high energy and can be frequently seen playing with other ponies. He has a particularly beautiful, soft, thick and long forelock. He uses very strong focus on anything he looks at with positive confidence - while at the same time being aware of not over-stretching his luck with the other ponies....!!!! . He is a very inspiring pony and inspired "A Pony's Prayer of Gratitude" which can be found at the bottom of the page on this website under "Useful Links & Contacts" (along with other MMT Traprain videos linked to YouTube). You can also click on the link below to go straight to YouTube to see Bob's "Prayer" :
http://www.youtube.com/watch?v=ZCngIoyFh2A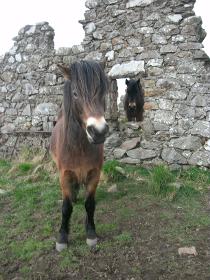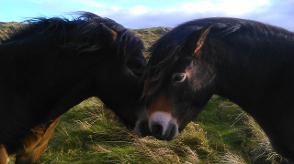 Left: Bob foreground with Whistler looking through the window (they then swapped round with Whistler in front and Bob looking through the window!)
Above: Whistler (left) and Bob (right) sharing a quiet moment together.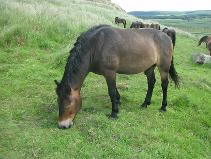 Above: Whistler. Note his short forelock
Above: Youngest pony Bob when he first arrived at Traprain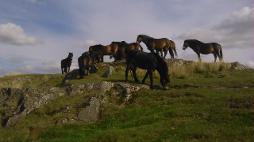 Although the above (centre) photo is small can you recognise Bob at the front of the group? Note his colour which is a beautiful "mousey brown" - and note also the difference of colour from when he first arrived at Traprain (see photo on left opposite).
Photo on right
:
Whistler - no doubt taking a well deserved rest from playing with Bob.....! Again note Whistler's short forelock.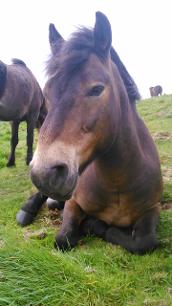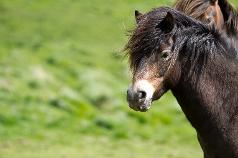 Bob's photo above: courtesy of Randy deKleine-Stimpson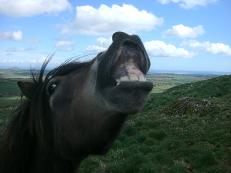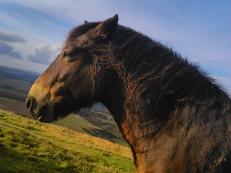 Above left: Bob - note his beautiful thick forelock. You can see in this photo on the left how strong and intense his focus is on anything he looks at. Above centre: Bob's famous smile - and note that eye contact again. Above right: a slightly muddy looking Whistler - but the photo portrays his personality very strongly. Whistler is a "no fuss" pony. He does enjoy a play-fight with other ponies, particularly Bob and Jessie James. However, he is a very serious, deep-thinking pony and will never display a nervous disposition at all. Although, like the other ponies, he will be wary of both humans and dogs he will not display a nervousness of them and, like Firtree, will take good command of any situation he is presented with in a calm and "no fuss" manner. The herd generally show Whistler great respect but in turn Whistler shows Rowan great respect.....
Frequently visitors to Traprain ask "who is the herd leader". To many people Whistler would seem to present himself as that Leader - but in turn Whistler recognises the importance of showing Rowan particular respect...... there is no "leader"......
The 13 Pony Kings of Traprain have no need of a "leader" - because in their own way they are ALL leaders, recognising that each member of their community has an important role to play in maintaining balance and harmony within the whole herd group. They work as a close-knit community, sometimes separating for a short while to graze in 2 separate groups but never too far away to lose eye and hearing contact of each other. There is "safety" within the herd group - and each member of the herd recognises their own importance to the collective herd.....
Group photos shown at top of page were of :
Left photo: background : Tunny, foreground Left : Bob : Right : Elmer
Centre photo : Left : Bob Right : Dandelion
Right photo : Left Pegasus-Whistler Right : Jessie James
We hope you have found this ID page fun and helps you in your Pony Discoveries! More photos - including group photos - will be added asap .