Below left : Upper north slope in May 2015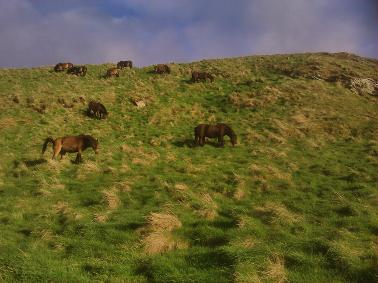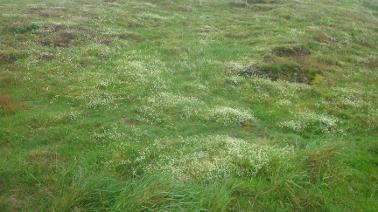 The delicate and beautiful Heath Bedstraw north side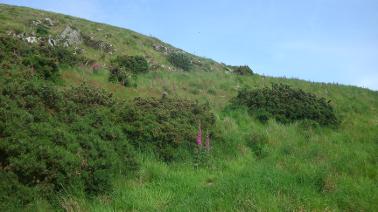 Above left: Foxglove growing on the lower west side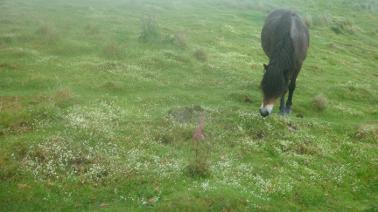 Above left : MMT Pony Bob sniffing - but expertly not eating! - the flowers. (Heath Bedstraw and Foxglove).
Cinnebar Moth: Although it is necessary to clear ragwort from Traprain each year (see below for details on ragwort) the ponies have proved so expert at avoiding plants that it has been possible to leave a few very large, bushy - not easy to damage - ragwort plants on Traprain to help support bees, cinnebar moth and other insects. These plants are finally taken away just before they are ready to seed - but are also checked very regularly to ensure they are not damaged. (Damaged/broken plants are removed to ensure the safety of ponies). The cinnebar has been seen on both the south and north areas of Traprain in 2019.
Some flowers that have been seen on Traprain in 2015 are :
Yarrow (summit mid July), Harebells (north, west & summit July, August), Bladder & Red Campion (south side August), Thyme (west July), Primrose (north April), Heath Bedstraw (summit June) - and many others!
While ragwort has been diminishing (through clearance by hand) it has made possible for Groundsel to flourish more in 2014/15 - a bird's delight!
Interested in why ragwort is being cleared throughout July 2015 on Traprain? See this page half way down.
Pony conservation grazing really works!
Flowers coming through at Traprain (May 2015)

(opposite : photo taken at ground level on the west side.
Two photos below : taken on the lower north slope. If you are in the area in May 2015 you can see many of the primroses from the road on the north (car park side).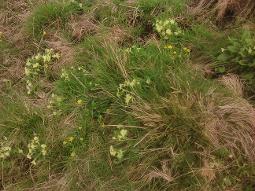 Below: Flowers and views from 2014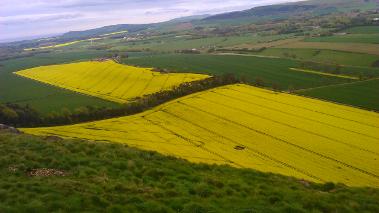 View from Traprain's summit - south view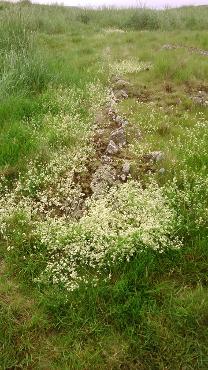 Above: Heath Bedstraw growing on Traprain's summit June 2014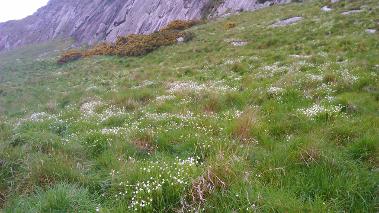 Flowers south side May 2014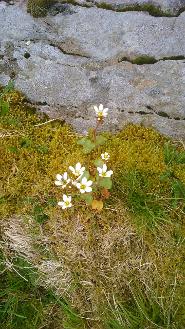 Opposite : The Ragwort flower. Liz is often asked by visitors to Traprain why she is removing the very pretty ragwort flower. Unfortunately although this plant is very beautiful it is also one of the most toxic plants to horses and ponies. It is vital that when removing this plant ALL parts of the plant are removed including the root and that no leaves are left discarded on the ground. The Exmoor pony itself is expert at recognising and avoiding this plant. However, if the plant is damaged to an extent where it is no longer recognised as ragwort to the ponies it is vital it is removed. Even dead ragwort needs a healthy respect given to it as its toxins go back into the root - and ponies are root eaters. Liz has found when removing dead ragwort frequently new ragwort shoots are on the old roots..... Liz, together with members of Lothian Conservation Volunteers (East Lothian Countryside Ranger Service) regularly check Traprain for ragwort and have noted that so far this year (2014)far more smaller, delicate flowers are appearing on Traprain to address the rebalance of habitat for bees, birds and plants where the Ragwort formerly outnumbered the more delicate species of flowers. For more information about ragwort see our "Pony Language" page - straight from the horse's mouth! - by clicking here.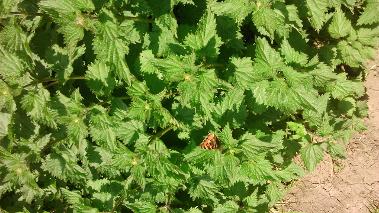 Above: a Small Tortoiseshell seen on a beautiful bed of nettles on Traprain May 2014.
On the same day as this photo was taken a Green-veined White Butterfly was also seen on Traprain.
Below right : the same upper north slope area in June 2019 where the ponies' expert grazing has enabled some beautiful flowers to flourish - congratulations ponies!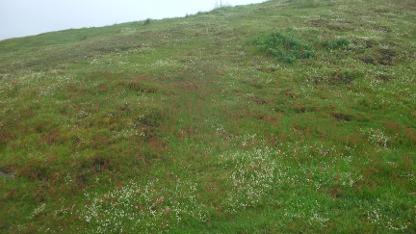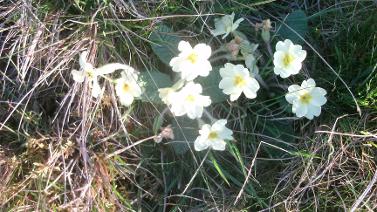 There has been an abundance of primroses on the north lower slopes in 2019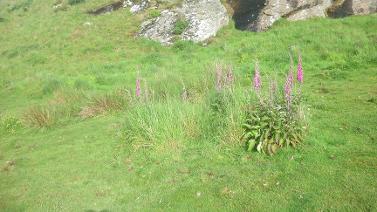 Above right : Foxglove growing on the lower north side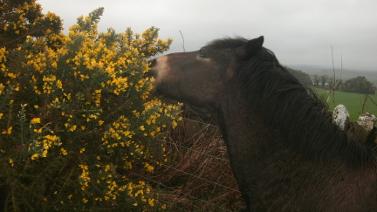 MMT Pony Whistler expertly enjoying a little prickly gorse! (They are very selective eaters and do enjoy a little gorse in he Spring)
Several species of butterfly has been seen on Traprain so far (June 2019), primarily on the north and south sides of Traprain. Details of species will be given later in the year.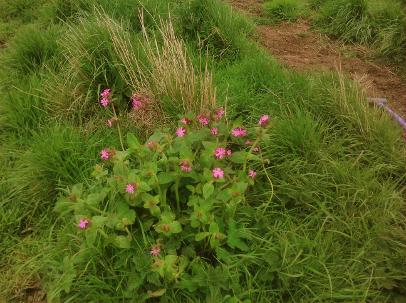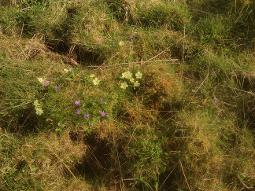 Further photos for 2015 (above) will be shown on the website as the year progresses.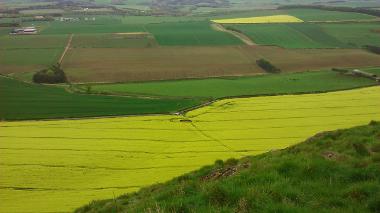 2014 Butterfly & Moth sightings include the beautiful Ringlets, Small Heath, Yellow Shells and Cinnabar Moth. (Full list of butterflies, moths and flowers is given at the bottom of this page).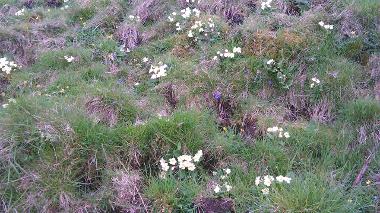 Flowers north side late April 2014
Traprain is noted for its lichens and mosses - photos to be displayed as soon as possible - but 2014 is showing a vast improvement in the quantity and quality of flowers as well. The Exmoor Traprain ponies are playing a great part in this. Their grazing is encouraging flowers to have space to grow in grasslands that were becoming "rank" with species poor as weed species and out-competing the rarer flowers.
Opposite left: flowers growing on the east summit.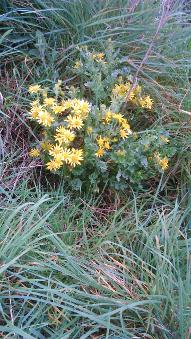 Below: Garden Tiger Moth Caterpillar seen on the summit May 2014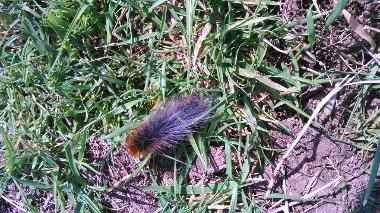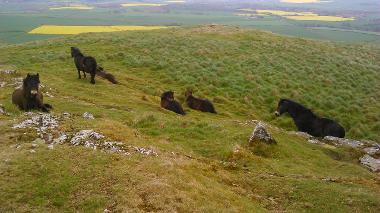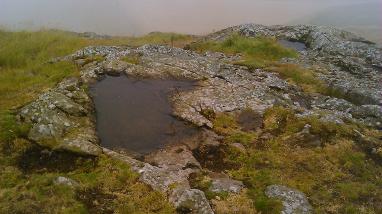 Above right: some of "The 13 Pony Kings of Traprain" taking a well deserved rest after a morning's grazing work on Traprain and a natural rock basin on Traprain.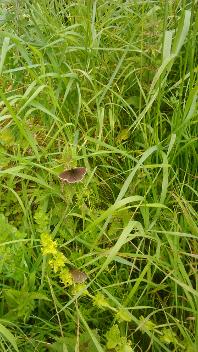 Left : 2 Ringlets
Right: Foxgloves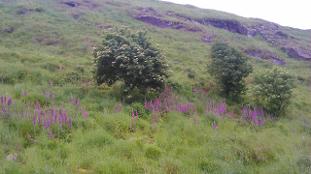 Butterfly & Moth sightings to July 2014
(a good website to ID your own butterfly and moth sightings can be found by clicking this link
Moths include : Yellow Shells, Silver-ground Carpet, Cinnabar Moth
Butterflies include : Green-veined White, Small Tortoiseshell, Red Admiral, Common Blue,
Meadow Brown, Ringlet, Speckled Wood, Wall Brown, Small Heath, Painted Lady
(more sightings to be added as soon as they are verified).
Flowers

Although it can be very tempting to pick flowers to take home wild flowers really do belong "in the wild".....When visiting Traprain the 13 Pony Kings of Traprain want you to enjoy sharing their habitat with them - but also ask that you leave the flowers at Traprain for ponies, bees butterflies moths and us humans to enjoy! Thank you.
Flowers to July 2014 include :-
Primrose (north side), Heath Bedstraw (summit west), Foxglove (north, south and west),
Meadow Saxifrage (east) (www.plantlife.org.uk state that "it is a plant of old grasslands and once was a common plant but now in decline due to loss of habitat" - so well done Traprain!
Harebell (west and summit), Thyme (west), Yarrow (summit, west and south), Bladder and Red Campion (south), Groundsel (see below). Germander Speedwell
While there is a need to keep Traprain Law Ragwort-free we have noticed that as Ragwort declines so the bird-loving plant Groundsel is thriving (derived from the Anglo-Saxon "ground eswelge" literally meaning "ground swallower"referring to the way it rapidly spreads). Congratulations to the Birds of Traprain! Note also that although Ragwort has declined there has been one sighting of a Cinnabar Moth on Traprain - whose food is the Ragwort ..... Traprain is also pleased that the beautiful Ragwort is thriving just outside the walls of Traprain (and so out of reach of the ponies) so the Cinnabar Moth is not being left without its habitat.....!
Please note : that flower sightings is not exhaustive and more will be added as soon as they are verified.
This page will be updated at regular intervals throughout the year to show the lichens, mosses, flowers and other natural inhabitants of Traprain!