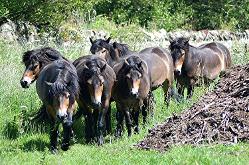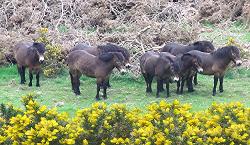 If you would like access to the Traprain Pony ID page contact the creator of this website Liz Mercer at :-
panettahealing@gmail.com
or tele:07454 655955
If you would like to discover more aboutThe Moorland Mousie Trust or donate to their work visit their website at :-
www.moorlandmousietrust.org.uk
email: info@exmoorponycentre.org.uk
Telephone: 01398 323093
For further details about conservation grazing contact MMT Chairman Juliet Rogers on
01434 673109
The Traprain ponies also have their very own special Blog page at :-
http://exmoor-pony.blogspot.co.uk
To contact The Exmoor Pony Society:
Tele: 01884 839930
The Moorland Mousie Trust , working with East Lothian Countryside Ranger Service, also have ponies working in conservation at North Berwick, Scotland UK. To follow the North Berwick ponies and see the brilliant work they are doing there go to :-
http://northberwickponies.wordpress.com
Interested in volunteering for conservation work?
If you would like to get involved in volunteer conservation work in East Lothian, Scotland UK
Duncan Priddle, Countryside Officer with the Countryside Ranger Service
will give you a hearty welcome!
You can e.mail Duncan at :-
dpriddle@eastlothian.gov.uk
If you are interested in ponies, sheep, bumblebees, butterflies, Terns, beaches - and much more! - you will have great fun joining as a volunteer!
Interested in identifying butterflies? Try these links :-
www.butterfly-conservation.org
http://www.ukbutterflies.co.uk/index.php
If you are interesed in wild plants try this link :-
www.plantlife.org.uk
Bee Time :-
https://bumblebeeconservation.org/about-bees/identification/
http://www.helpsavebees.co.uk/index.html
Could you give a duck or another animal a good home? If so the Scottish SPCA would love to hear from you!
Contact them on 03000 999 999
Looking for a Dog or Cat Best Friend? Prince Ben-Skye of Traprain (see home page) recommends :-
The Edinburgh Dog & Cat Home
Tele: 0131 669 5331
Follow the Traprain ponies on YouTube :-
Just click on the http links below :-
Traprain Ponies at Gorse Time (this video is also at the bottom of this page)
http://www.youtube.com/watch?v=9-qnni7O2Kw
A Pony's Prayer of Gratitude (this video is also at the bottom of this page)
http://www.youtube.com/watch?v=ZCngIoyFh2A
Traprain Ponies Spring Time Fun
http://www.youtube.com/watch?v=RjyBhViEcA4
Traprain Pony Frolics
http://www.youtube.com/watch?v=SiMrtEAeI_c
Traprain Ponies Beauty Parlour Time
http://www.youtube.com/watch?v=COQekdlqwIQ
Traprain Ponies : Pony Style Back Rubbing
To contact Liz Mercer just e.mail to :-
elizabeth@greenstringsmusic.com OR elizabeth@panettahealing.com
or phone : 07454 655 955
More contacts and links will gradually be added to this page
BELOW :
Here is a small selection of short MMT Traprain pony videos as seen on YouTube. Bob's "A Pony's Prayer of Gratitude" is dedicated to everyone working to encourage Planetary harmony, whether through healing, education, conservation programmes - and Bob says particularly Animal Welfare! We hope you enjoy them.