LATEST NEWS!
(Updated October 2018)
The Traprain Stall (Traprain Car Park) will be opening from 10.00am to midday Saturdays and Sundays throughout December from 8th December 2018 (weather and pony needs permitting!). There will be MMT Christmas Cards and MMT 2019 Calendars along with a small selection of MMT merchandise - great for Christmas presents!
Welcome to the new EPC/MMT Knitting & Crotchet Club!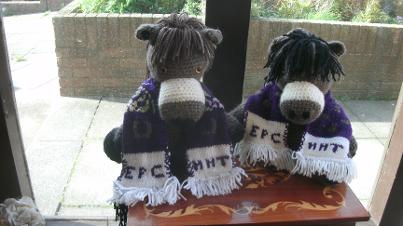 Do you enjoy knitting & crotchet and really love ponies? The 13 Pony Kings of Traprain have inspired this new Knitting & Crotchet Club specially to raise funds for their Home at EPC/MMT. It doesn't matter whether you are young or not so young - knitting & crotchet is good for everyone. It has been found to be really good as a "tool" for meditation, calming the Mind and helping to encourage good focus. It doesn't matter whether we are wheelchair bound or enjoy a peaceful walk - knitting & crotchet can be done just about everywhere! (Liz often does a few minutes crotchet while with the ponies on the Traprain summit.....).
EPC/MMT are very grateful to "Little Muggles" for allowing us to use their beautiful pony design above (muzzle has been adapted to suit the Exmoor Pony - the scarf has been designed by Liz at Traprain ). This
amigurumi
toy pony design can be found at
www.littlemuggles.com
and is called "Lucky the Horse".
"Lucky" is perfectly named as the first toy to start our new Club!
It doesn't matter whether you are a beginner to knitting & crotchet or very experienced - our new Club is developing patterns of toys and clothes to suit all abilities, or if you enjoy creating designs yourself here's a great opportunity to share them - with our aim of helping to create awareness of the Exmoor Pony and raising funds for EPC/MMT by selling our creations in their Shop at the EPC/MMT Centre.
If you think this is something you would like to get involved in or would like further details just contact :-
If you live in Scotland:-
Our 1st EPC / MMT Knitting & Crotchet Club Meeting for Scotland is on :-
Wednesday 12th December 2018 10.00am to midday
Haddington (Town Centre) East Lothian. Contact Liz Mercer for more details
All other enquiries for the UK and abroad to :-
The 13 Pony Kings of Traprain all give you a big Thank You!
East Lothian Countryside Volunteers now have their very own website. ELCV do a brilliant job in and around the countryside of East Lothian. You can find out all about their work and how you could become a Volunteer at :-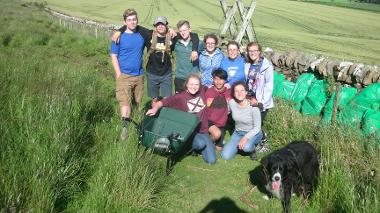 Here's a group of wonderful, inspiring people who came from America in Summer 2017. They spent some time helping to clear ragwort from Traprain - in between throwing the ball for Pony Dog Skye....!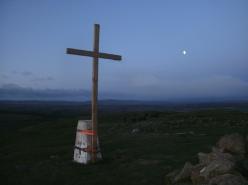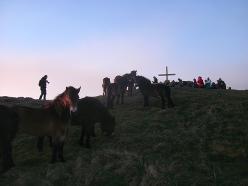 The 13 Pony Kings of Traprain give a Big Thank You to The Parish of Traprain for inviting them to their 6.30a.m. Summit Service on Easter Day 2016 (and 2017!). What a fantastic way to celebrate Easter!
The 13 pony Kings wanted to give all their friends an Easter Gift - and knew that yellow represents Easter - so here's Pony Thistle sharing his yellow gorse with you. They also decided it was very timely for Pony Bob to give you all one of his famous smiles.....!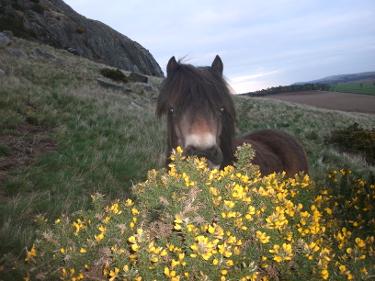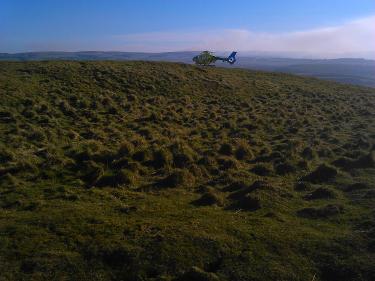 14th March 2016.
Ponies had visitors today when a hang glider crashed onto the summit and fire brigade, ambulance, police and helicopter arrived. The emergency services worked really fast and efficiently when the man was airlifted away with a broken leg. Meanwhile the 13 Pony Kings of Traprain had taken themselves to a quiet area away from the summit where I found them grazing contentedly - peacefully. All of us involved with work at Traprain give the emergency services today a huge thanks for their expert handling of the accident and we all hope the man's leg heals fast!
A selection of photos taken by Randy deKleine-Stimpson at Traprain in 2015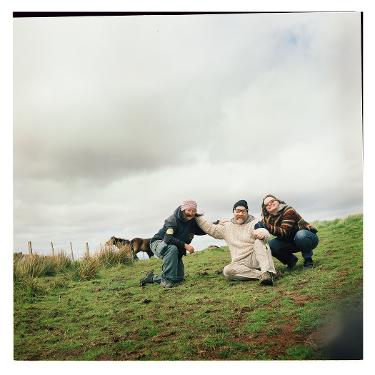 Opposite : Liz (left) with Randy & Robin : Traprain 2015
Below : Pony Bob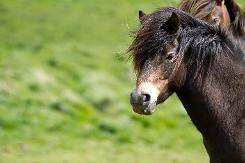 Photos by courtesy of Randy deKleine-Stimpson
Below: Whistler (left) and Firtree (right) at the old croft walls Viper, Unicorn & friends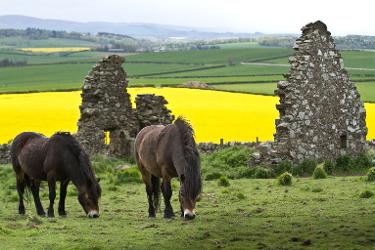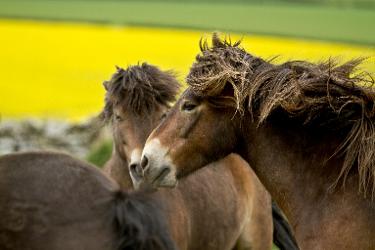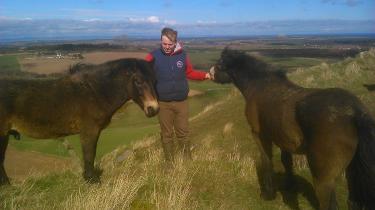 Recently the MMT Traprain ponies had a visit from MMT Pony Officer Chris seen here saying hello to two rather muddy ponies!
The ponies had a special invite by a local Church Easter Day to the Easter Day Service held at 6.30a.m. on Traprain's summit. Although it was a really foggy morning many people attended - a very inspiring and memorable Service.
(Please note: Because Traprain Law is an Ancient Monument special permission must always be obtained from our local Council prior to an Event that requires any structure to be placed on Traprain Law.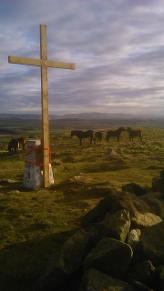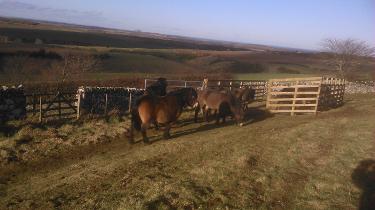 The ponies now have their very own Pen! Admittedly it doesn't yet have a TV inside it - so they could watch the Grand National.... - but they find it a great place to socialise!
"Stars of the Season"
Recently Unicorn (laying down in the photo opposite) suffered a minor leg injury and although whenever the whole herd moved to a new area on Traprain they moved far slower than usual in order to give support to Unicorn, Liz noticed that Dandelion stayed close to Unicorn throughout the few days the leg took to heal. Unicorn would always be the last pony to locate to the new area - and Dandelion would always be standing beside him - a wonderful friend.... the 13 Pony Kings of Traprain certainly understand the real meaning of "community spirit".....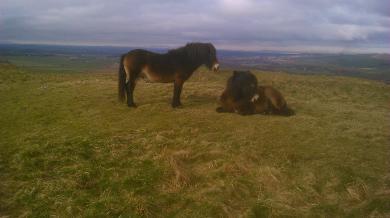 November 2014 saw the arrival of 150 sheep on Traprain Law who stayed until the end of December 2014. Ponies and sheep seemed very happy to be together!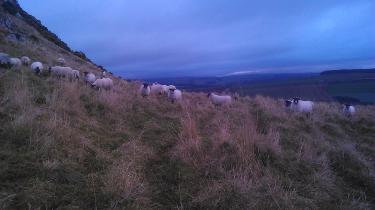 Above: recently Liz discovered 4 new guests at Traprain Law - ducks. Sadly 2 of the ducks were killed by a fox and upon realising the ducks were flightless and unable to defend themselves Liz phoned Fiona of the SSPCA to help rescue the remaining ducks. Within one hour of receiving Liz's phone call Fiona was on site crawling through gorse to rescue the 2 remaining ducks who are now safely with the SSPCA. The SSPCA are always looking for homes for needy animals - including ducks - so if you feel you could give an animal a good home the SSPCA would be pleased to hear from you! You can contact them by going to the Contacts page - just click this link. (In the photograph above right you can see in the bacground one of the ponies looking just a little bemused about the ducks...!).