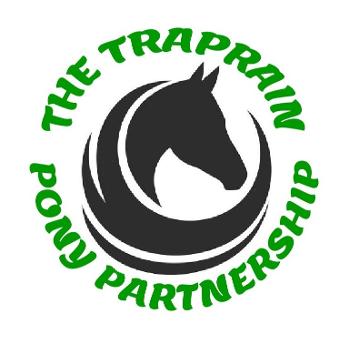 The Traprain ponies welcome you to
The Traprain Pony Partnership!
Yes folks - we've had "teething problems" since launching our new Traprain Pony Club, set up for the community - and have had to change its title and logo. We hope you like the new name! It is a "partnership" - between the hill, ponies, organisations involved with the hill - and us....
These "teething problems" has actually brought the core members of this new and exciting Partnership even closer together. The wonderful ponies themselves thank everyone who has shown determination and commitment to overcome these teething problems - and with it success - thank you!
Throughout December we will be unveiling a "pathway" we envisage the new Partnership to travel where the community will have opportunity to travel with us. At present we are continuing to grow a small but strong "core team" within the Partnership and will also be opening a section dedicated entirely to the young of our community - and which we envisage will be led by the young of the community......
This year has been a very difficult year for both the ponies and myself at Traprain- trying to find a "balance of harmony" that just seemed to refuse to exist. In previous years communication between the Council's Conservation Dept, MMT and myself had been good. Yes we've had our problems to sort out - but we were always able to find a "middle course" of mutual agreement in the end. Sadly with a new management at Traprain this has ceased to exist.
My own personal greatest concern throughout this year has been the situation with Tunny - you can read about it just by
clicking on this link
which will take you to Tunny's Story on this website. It seemed as if no one was listening to me and I felt for the first time in 9 years of working with the ponies' at a loss to know how to go forward with the situation. I began to recognise that I was no longer able to deal with situations arising by myself - stronger community-based collective spirited voices were needed.
People joining The Traprain Pony Partnership will, I am sure, have the belief that Traprain and its amazing ponies are an important part of our community - and that the community itself should have a large part to play in the ongoing success. The family visiting the hill with their children, walkers, artists - and so many others - are as equally important as the geologists, archaeologists, conservationists etc that tend to take the lead in matters relating to Traprain.

"The Traprain Pony Partnership" is about all that love and enjoy the benefits of both hill and ponies have opportunity to come together. Lets understand each other - and with that understanding comes unity. Traprain Law is an ancient hill, its "spirit" entwines so perfectly with the ancient spirit of the Exmoor pony itself......Lets not lose sight of that precious collective "spirit" but rather come together, listen to each other, learn from each other - and rejoice together...... the ponies have taught me that "community" is a most precious Gift that we all can share.....
The Traprain Pony Partnership are asking our local and international community to join us. Age is no barrier! There will be fun quizzes and competitions for children relating to Traprain and the ponies as well as more serious aspects that we can all share in together.
Traprain and its ponies really do need YOU..... whether its to receive a Newsletter or to get more involved - every single person is truly important to the Partnership..... lets remember Pony Tunny who has left Traprain now. Tunny was the oldest and one of the wisest ponies on Traprain. He tended to "stay in the shadow" a lot observing his herd. But he was a really important and valued member of his herd - and the herd is feeling they are "less" now without him..... his gentle, non-assuming character actually played a vital role in the balance of the whole herd. Likewise with us humans - every single person joining will be bringing their own unique talents. If you "just" want to receive a Newsletter well.... - that inspires us to write one! If you want to get more involved well .... - that makes our hearts sing!
As a music teacher I often hear parents say "I can't play or sing at all".... as they smile at their child making sweet sounds with a musical instrument. I say in return "every musician needs a good audience - without that audience the music is less".....
Its the same with The Traprain Pony Partnership - whether we are good at "walking the walk", "talking the talk" or just great at sharing time with our loved ones - every single person is important to the whole.....
TheTraprain Pony Partnership need your ideas, your thoughts, your inspirations! Find out more by writing to :-
Can't e.mail? No worries - just text on 07454 655 955 and we will get back to you at hoof speed!
Liz & The wonderful Traprain ponies : Pegasus-Whistler, Bob, Thistle, Juglans, Jessie-James, Dandelion, Elmer...-Chico, Viper-Mistral, Spike, Rowan, Unicorn, Firtree - and now left Traprain but never forgotten : Tunny
Read below (after the photos) what core member of TTPP Lynne Russell says about The Traprain Pony Partnership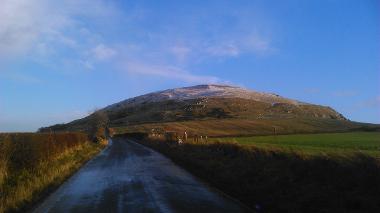 Above: snow capped Traprain.
Right: Pony Bob : Traprain's "entertainer".
Below: Ponies just love Traprain's snow!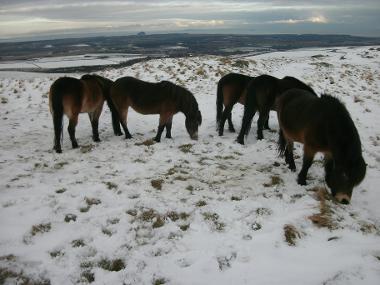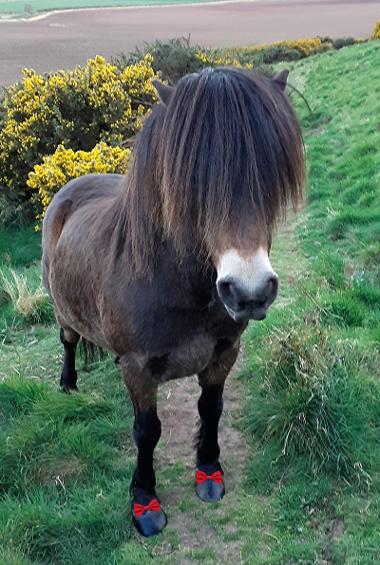 Here's a message from "core member" of The Traprain Pony Partnership (TTPP) Lynne Russell :-
Do you want to get involved in something positive in 2021?
Looking for a way to keep active, enjoy the outdoors, appreciate wildlife, have adventures with your family and meet like-minded people?
Getting involved with The Traprain Pony Partnership is a great way to learn about the behaviour of wild ponies, understand their needs, support their wellbeing, and secure their future at Traprain.
You may enjoy telling the ponies' stories and educating others about the ponies' activities through the use of film, photography or painting. You may have some fundraising, negotiating, management, conservation or PR skills to help TTPP liaise with the multiple agencies involved in the wellbeing and management of the ponies, securing their future as an integral part of the East Lothian landscape and culture.
So kick start your New Year by getting involved in a positive new initiative which will support the future wellbeing of the Traprain Law Pony Kings!