THE EPC/MMT NEW (October 2018) KNITTING & CROTCHET CLUB!
If you are a School keen to encourage children to enjoy the Art of Crotchet & Knitting please take a look at our "Latest News" page by
clicking this link
- thank you!
The MMT 2016 Competition is now closed! However, this page is being redesigned for schools to use - any reference to the Competition on this page please ignore while the page is being redesigned - thank you for your help.

My name is Freddy and I am featured on the Exmoor Pony Wordsearch. I wonder if you would like to know where I was born? If so just click on the link below to find out!
http://exmoor-pony.blogspot.co.uk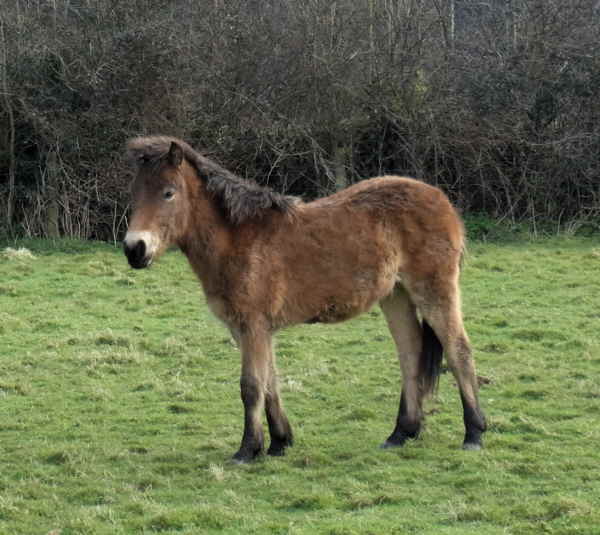 The Wordsearch can be obtained from Liz on the Traprain stall. Subject to reasonable weather.... the stall is usually open on Sundays between 2.30p.m. and 4.00p.m.
BUTTERFLIES :

All butterfly information kindly provided to us by courtesy of Nick Morgan, Access Officer, East Lothian Council).
The Painted Lady Butterfly
The parents of the butterflies seen here lived in North Africa. They fly to Europe in the Spring and their children then fly to northern France and southern England. Some of these make their way to Scotland or will have young which arrive here. In the late autumn these butterflies return to southern Europe or Africa. No one knows how these butterflies can find their way to where their grandparents started from. Painted Ladies are the most widely dispersed butterflies. They are found in the Caribbean, Africa, Europe, New Zealand and as far north as Iceland. They also migrate further than any other butterfly including the famous Monarch of the USA and Mexico.
The Common Blue
The caterpillar feeds on bird's foot trefoil and black medick. As the caterpillars get older they are looked after by.....ants!
BEES
All bee information kindly provided to us by courtesy of Duncan Priddle, Countryside Officer, East Lothian Council).

Bumblebees have an advantage over other insects when it comes to plants..... they are bigger and furrier so can thrive in worse temperatures than all other insects.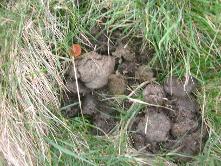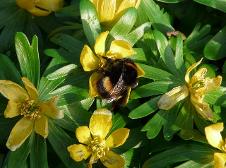 So you don't think the manure photo above is attractive? Ah! But some Creatures of Nature think it tantalising!

Right above : buff-tailed queen bee
Right opposite : Carder bee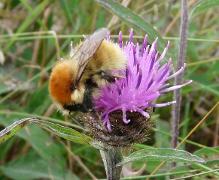 Question 10 in the Competition asks you to look at photos of the Traprain ponies staring at something. (Photos taken on the south west ridge March 2016). Here are the photos you need to look at. The pony by himself is Whistler.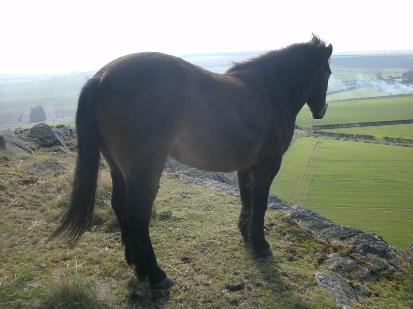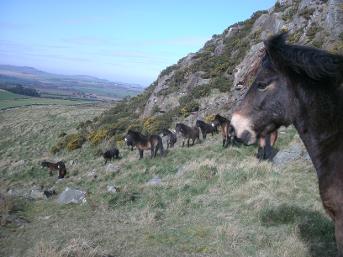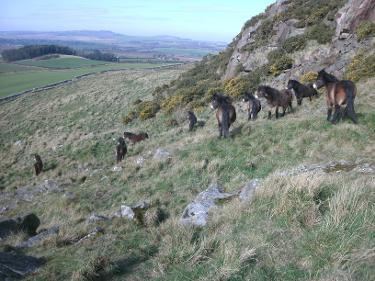 The 13 Pony Kings of Traprain hope the photos help you....!
If you are needing help with questions about e.g. the Anchor herd Bob, Whistler and Thistle are happy to help you.
Just click on this link which will take you to the Pony Language page where you will see a conversation between the 3 Pony Whiz Kids! The conversation is called "A Pony Chat of Great Importance".
Just download the Competition using the link given at the top of this page - and the wonderful 13 Pony Kings of Traprain and everyone who has helped to create our Competition hope you find it fun!
The winners of the Competition will have the opportunity to come to a Concert in October 2016 and be presented with their Prize - or can opt to have their Prize sent to them.
The 13 Pony Kings of Traprain find each day a new Adventure - there is always something new and exciting to find out about and we all hope this Competition helps you share in the Adventure of Learning
If you have enjoyed this competition, please consider making a donation to help the Moorland Mousie Trust in their work with these rare-breed ponies. Please click here to find out how you can do this.